Destination
Enter destination to get a shipping cost
Techkon SpectroDrive is an Automated Scan Measurement System. Its automatic color and density measurement capabilities is the perfect solution to substantially increase press productivity by ensuring consistent print-to-print color accuracy throughout the press run.
Description
What is included?
SpectroDrive Instrument
Guidance Track
Power Supply
Data Cable
Wireless WiFi Module
Expresso Software
Carrying Case
Two Year Warranty
---
Packages of SpectroDrive
SpectroDrive w/Expresso Basic
Ink zone density display of CMYK & Spot colors
The list of inks included in database is displayed. The four process colors C,M,Y and K are pre-installed. They are stored in the color book CMYK and are already marked by a screen color.
Data export
By using the "Export" function you can hand over individually edited inks and color books easily to another printing machine.
Statistical analysis and report generator
The resulting evaluations of the different statistical analyses can be printed out in so called reports.
Densitometric gray balance
The gray balance display will show densitometric gray balance values for CMY in a bar graph.
Dot area, dot gain & print contrast
Densitometric values can be solid density, dot area, dot gain or trapping values. Colorimetric values are typically CIE L*a*b or ∆E-color information.
Target values, references, tolerances, OK sheet
In measuring conditions section, a list of data sets for target values and tolerances will be displayed. It is based on ISO 12467 color values for CMYK. Individual target and tolerance settings can be made as well - also for spot colors.
Front & reverse printing
Using the buttons "to top side" and "to reverse side" you can switch between the measurement of the color bar length for top- and reverse-printing. This requires that a press with a reversing unit has been defined.
Display of single measurements when used as a hand held device
Techkon SpectroDrive is the ideal extension to Techkon's renown hand held instruments.
Supports up to 6 printing units
Techkon SpectroDrive Basic supports up to 6 printing units.
Back To The Top ⇑
SpectroDrive w/Expresso Pro (includes Basic Features)
Supports up to 16 printing units
Techkon SpectroDrive Pro supports up to 16 printing units.
Ink zone specific colorimetric ∆E display, Lab, LCh, ∆Lab, ∆LCh
Measurements in colorimetry modes have the advantage of an absolute description of color based on characteristic values.
InkCheck recommendations for ink key adjustments
InkCheck function gives spectrally based recommendations on how to set the ink key as used from density in order to meet colorimetric targets required for printing within ISO standards.
ISO 12647 and GRAcol G7™ evaluation display
Display evaluation according to ISO 12647, GRAcol G7™ generator.
Back To The Top ⇑
VIDEO: Techkon SpectroDrive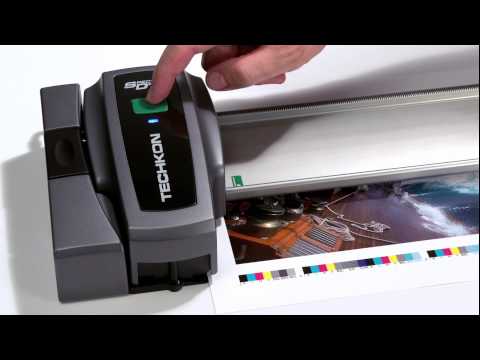 Watch Video
Specifications
| | |
| --- | --- |
| Variant | 1 |
| List price | $23,000.00 |
| Product Actual Weight | No |
| Physical Size (H x D x W) | No |
| Computer OS | Win XP (32 bit), Win XP (64 bit), Win Vista (32 bit), Win Vista (64 bit), Windows 7 (32 bit), Windows 7 (64 bit) |
| Warranty | 1 Year Parts & Labor |
| ICC Version | No |
| Automated | Yes |
| Color System | Spectral |
| CTP Plates | No |
| Density | Dot Gain, Dot Area, Print Contrast, Grayness |
| Measurement Aperture Size | No |
| Measurement Time | No |
| Pantone Library Included | No |
| Print Surface | No |
| Uses | Print Only |
| Max CMYK Printer Profiling Patches | No |
| CMYK Printer Profiling | No |
| Monitor Profiling | No |
| Max Multi-Color Printer Profiling Patches | No |
| Profiling Choices | No |
| Max RGB Printer Profiling Patches | No |
| Supported Color Measurement Devices | No |
| Supported Color Measurement Devices via ColorPort Software | No |
FAQ
Questions on Techkon SpectroDrive
No questions asked yet
You may also be interested in the following product(s)
| | | | |
| --- | --- | --- | --- |
| Our Price: $4,200.00 | | Our Price: $4,150.00 | Our Price: $11,550.00 |