Destination
Enter destination to get a shipping cost
ONYX Thrive is a workflow solution for print service providers. This Adobe based workflow technology truly allows for an end-to-end PDF workflow from digital file submission through color management, printing and cutting.
Description
Onyx Thrive 12.2
What is ONYX Thrive?
Thrive provides a simple to use browser-based interface for workflow control anywhere, which optimizes both operator and output device productivity. With a wide array of features your workflow will benefit from increased productivity, accuracy and color quality:
Onyx Thrive Features
Predictability
Adobe PDF Print Engine with Adobe Normalizer

- PDF format acts as a container that can have any kinds of format inside. Anything that is not pdf is converted to pdf by nesting in order for thrive to process and print due to Adobe print engine.
Award winning 32-bit ONYX Color Engine

ICC profile creation

with new Vivid Color gammut mapping - A tool that let users select Profile Provider, and choose one or several different Configurations to save time on the next usage.
Unique PowerChroma Black Generation with new GCR Plus and ink saving control
Easy recailbration tool
Highly automated color profiling with Black Diamond control
Built in Pantone Plus, RAL and HKS color libraries
Automated and manual named spot color replacement
White and specialty ink tools

Job Editor tool

- Job Editor is a powerful tool that can change the size, orientation, color, and appearance of your images before processing and printing in the RIP-Queue.

Layout tool

- Forms art board to mange the jobs.

Hot Back-Up Option

- Onyx thrive purchase comes with a box that has its serial key. If for whatever reason the box becomes damaged or not functioning poperly, hot back-up option will provide user with a serial key for 30 days. This is essential in keeping the business running.
Back To The Top ⇑
Performance
Wide Printer

- Printers that can be controlled by computers. They are able to support a maximum print roll width of between 18" and 100".

Grand Printer

-Printers with capacities over 100." They are used to print banners, posters, trade show graphics, wallpaper, and more.
Quick Sets and unlimited hot folders
RIP-and-Print on the fly while ripping multiple files simultaneously
Smart 16-bit processing
Multi-Page PDF splitting
Automated nesting with rotation
Automated or custom tiling
Printer pooling with automated allocation of print jobs

Roll to Roll Cutting

- Automated print-and-cut workflow

Flatbed Cutting

- is ideal for designers and prototyping in offset printing, digital printing, packaging industry, fashion industry, as well as road sign making, stone and glass sandblasting and etching, and more.
Robust cut path management tools
Back To The Top ⇑
Scalability
Unlimited Thrive Production Manager

- Production Manager is an http service. It provides the ability to montior and control all jobs coming into the RIP-Queue station. Production Manager can be accessed through any computer, or other devices connected to the local company network, such as a tablet.
Network based site licensing
Distributable workflow modules
Add processing and printing capabilities independently
Back To The Top ⇑
Full 64 bit platform(applications & RIP engines)
Save hours on large file processing
RIP output that exceeds 2GB will process in a fraction of the time
Average speed improvements versus ONYX 11 were nearly 5x faster
Testing showed some XL file processing speeds up to 23x faster (output that exceeds 4GB)
Increase productivity and improve the bottom line by processing more files in less time
Based on ROI calculations, printing just one more job per day can improve the profit margin in a shop by as much as 30%.
Measured improvements for raster file processing (JPG, TIFF, etc) up to 20x faster over ONYX 11
Data transfer speeds from RIP to device with many grand format and file mode printers is up to 2x faster
Streamlined file handling with high performance hardware such as solid state hard drives
Back To The Top ⇑
Simplified Process for G7
Matching color across devices and ink types is challenging
Get the benefits of using a G7 process for neutral gray colors with an a easy to use solution integrated into ONYX Software.
Profiling with G7 is simple as:
Build confidence that everything printed will meet customer expectations
Use G7 correction curves in Media Manager to achieve output consistency across devices and applications
Immediate verification provides confidence you are meeting G7 standards
One click iterations dial in G7 conformance
Easy import of 3rd party curves
Back To The Top ⇑
Simplified Production
Don't waste space on expensive sheet media
Full sheet view in nesting preview
See image previews in relation to the sheet size
See the media that will not be used when printing to flatbed devices
Print to Cut workflow enhancements improve predictability and accuracy
Support for QR Codes in Zund Cut Center
Intermediate cutter marks between rows for greater cutting accuracy on supporting devices
Available image preview for supporting 3rd party cutting software
Set cut file path for I-cut workflow
Configuration of mark sizes and shape
• Improved DXF support
Set color channel for printing cutter marks on colored media
New Device Support
Jingwei Cutter support
Mimaki CG-SRIII Support
AXYZ Cutter
Back To The Top ⇑
Application Tools: Tiling
Save time with tiling and job setup
Quickly create evenly divided rows and columns saving time and enabling more print applications
Advance feature lets you customize tile sizes
Choose to include bleed and trim in tiling calculations
Preview of cut paths around tile boundaries to verify final output
Print tile marks inside image area
Back To The Top ⇑
Quick Sets 2.0: Easy Automation
Automate tiling with ONYX Quick Sets
Enhanced tiling, combined with other job preparation tools within Quick Sets, can save up to 15 min/job by automating job preparation and finishing setup.
Use Quick Sets to automatically apply tile settings when opening a job or submitting it through automated workflows
Accurate job preview builds confidence in final output
Redesigned UI for Page and Tiles Setup make tile selection easy
Preview active and inactive tiles before submitting job to print
Include print label when using automated print to cut features
Process PDF images based on Media, Bleed, Trim, Art, or Crop boxes
Build automated workflows around custom production needs and design preferences based on the variety of supported PDF boxes
Back To The Top ⇑
Additional Features
Due Date and Due Time metadata field in RIP-Queue
Better track customer deadlines
Can be automated with JDF workflows via ONYX Connect
View and access profile information
Easy one click access to modify individual steps within a profile
Overview of profile data without editing
Back To The Top ⇑
Onyx Thrive 211
All the essentials needed to start with a powerful PDF workflow
Available Workflow Module Add-ons:
Back To The Top ⇑
Onyx Thrive 421
All the essentials needed to start with a powerful PDF workflow
Available Workflow Module Add-ons:
Back To The Top ⇑
Onyx Thrive 642
High performance PDF workflow for the best value, including award-winning ONYX Color
Available Workflow Module Add-ons:
Back To The Top ⇑
Onyx Thrive 862
High performance PDF workflow, with expanding possibilities, including award-winning ONYX Color
Available Workflow Module Add-ons:
Back To The Top ⇑
VIDEO: Onyx Thrive?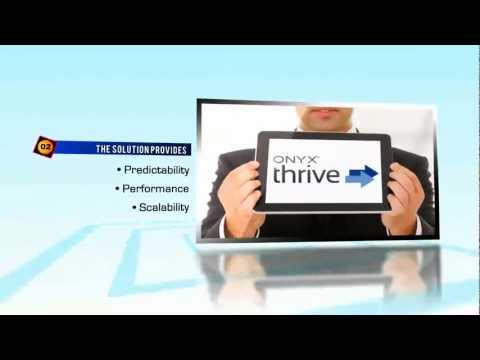 Watch Video
Specifications
| | |
| --- | --- |
| Variant | 1 |
| List price | $3,295.00 |
| Product Actual Weight | No |
| Physical Size (H x D x W) | No |
| Computer OS | Mac OS 10.7 (Lion), Mac OS 10.8 (Mountain Lion), Mac OS 10.9 (Maverick), Mac OS 10.10 (Yosemite), Windows 7 (32 bit), Windows 7 (64 bit), Windows 8 (32 bit), Windows 8 (64 bit), Windows 10 (64 bit) |
| Warranty | 1 Year Parts & Labor |
| RIP Features | Nesting, Includes ICC Profiling |
| Certified Color | No |
| Epson Printers | No |
| HP Printers | No |
| Canon Printers | No |
| Supported Color Measurement Devices | No |
| ICC Version | No |
FAQ
Questions on ONYX Thrive
How well does this software work on a Mac Computer?
You can use in the included PPD to create printers on a Mac to print directly to the windows Onyx Thrive. Alternatively you can drop PDFs into a "hot folder" that import into Onyx Thrive on the PC. Onyx Thrive does not run on a Mac, only Windows OS.
From Scott at 7/6/16 11:27 AM
You may also be interested in the following product(s)
| | | | |
| --- | --- | --- | --- |
| Our Price: $2,195.00 | Our Price: $1,295.00 | | |