Destination
Enter destination to get a shipping cost
EFI Fiery XF is the color management solution for large to superwide format inkjet printing devices. Now, your printers can achieve a new dimension in color quality and productivity on banners, posters, signs and vehicle wraps!
Description
EFI Fiery XF Version 6.3
Highlights
A new swatch book printing feature plus support for new PANTONE® spot color libraries
44 new printer drivers for EFI VUTEk, EFI Matan, EFI Reggiani, Durst, EPSON, HP, Mimaki, OKI and Seiko devices
New stochastic screening for EFI VUTEk, EFI Matan and EFI Reggiani printers
Support for Mac OS X 10.12
---
Color Quality Improvements
A new Color Editor feature allows an unlimited number of spot colors to be printed as a swatch book. Patch and medias size can be selected, and then printed on the chosen printer and substrate, customers can then pick the exact color they wish to see on the final print job.
Support for 6 new PANTONE® color libraries:

PANTONE EXTENDED GAMUT Coated
PANTONE FHI Cotton TCX 2100
PANTONE FHI Cotton TCX
PANTONE FASHION HOME + INTERIORS TPG
PANTONE Solid Coated & Uncoated
PANTONE Color Bridge Coated & Uncoated

Smoother and sharper output results from new stochastic screening for EFU VUTEk, Reggiani and Matan printers.
Linearization improvements for advanced ink limiting result in darker shadows with more detail.
The included update to Color Profiler Option 4.9 brings a new multicolor profiler for larger gamuts for selected multi-channel printers, the printers that benefit from this feature are:

EPSON SureColor, P7000, P9000
MIMAKI TS300P-1800
VUTEk HS100 Pro, HS125 Pro
EFI Wide Format H1625-RS

The Color Profiler Option 4.9 also adds a new CMYK profiler for smoother results on all EFI printers
Support for the revised ISO 12647-7:2016 contract proofing standard. Changes include mandatory spot color validation where jobs include them and modifications to the various criteria plus tighter verification tolerances.
A new "printhead focused halftoning" for Fiery XF for Jetrion improves output quality by eliminating vertical lines and reduces graininess.
---
Productivity Improvements
Performance improvements for nesting and step and repeat processing.
Support of the Summa F-Series through the Cut Marks Option
EFI Wide Format H1625 users now have access to a new Output Device control that allows them to manually define the pre-processing threshold preventing potential printer "stalls".
---
Usability improvements
An updated i-cut implementation ensures compatibility with the latest Esko technologies with a new merged .CUT file consisting of the .AI and .CUT files.
A new link has been added to the Fiery XF Client Help menu to take users to help.efi.com/Fiery XF where various technical resources can be found such as: Technical documents, user documents, supported printer and cutter lists, new printer supplements, knowledge base guides and more.
EFI Matan and EFI Reggiani Fiery users can define a separate user name and password in the output device settings to access shares through the network for easier navigation.
---
Integration improvements
Advancements in the bi-directional communication between Fiery proServer / Fiery XF and the EFI VUTEk printer software bring multiple end-user benefits:

Print via IP network" is now the default setting for automatic printing and bi-directional information transfer.
A new handshake mechanism ensures bi-directional communication is established.
Users can now send jobs into selected "workspaces" in the VUTEk printer software, and even create new workspaces from within the Fiery proServer / Fiery XF Client. This enhancement is limited to:

The HS100 Pro / HS125 Pro with printer software version 2.0+
The GS-Series / QS Pro-Series / H2000 Pro with printer software version 4.1+

More transparent statuses and solution-orientated error messages are displayed in System Manager and Job Explorer for better user guidance
Fiery proServer / Fiery XF are now more intelligent resulting in some integration-related issues being solved automatically without user interaction.
Jobs can now be "moved" in Job Explorer from one (compatible) printer to another without the need to re-RIP enabling last minute and flexible decisions on which printer will be used to print a job.
---
System Improvements
The Fiery XF 6.3 client, server, and all included tools, fully support Mac OS X 10.12, macOS Sierra.
Introduction of the new Fiery proServer SE with single printer support for selected EFI printers.
A rebranded Fiery proServer to Fiery proServer Premium that now ships with a 27" display.
---
New Printer Drivers
EFI Matan

EFI Quantum LXr
EFI Matan 3/5
EFI Quantum 3/5

EFI Reggiani

Reggiani ONE 180 / 8
Reggiani PRO 180 / 16
Reggiani PRO 340 / 8
Reggiani PRO 340 / 16
Reggiani NEXT 180
Reggiani NEXT 340

EFI VUTEk

HS125 Pro (+ White)
HSr Pro (+ White)
LX3 Pro (+ White)
LX3 Pro UD (+ White)
VUTEk FabriVU 180/340

EFI Wide Format
Durst

Rho P10 250HS
Rho P10 1012

Epson

SureColor SC-P10000 CMYK (Contone)
SureColor SC-P20000 CMYK (Contone)
SureColor SC-S40600 CMYK (Contone)
SureColor SC-S60600 CMYK (Contone)
SureColor SC-S80600 CMYK (Contone)
SureColor-P6000 CMYK (Halftone)
SureColor-P7000 CMYK (Halftone)
SureColor-P8000 CMYK (Halftone)
SureColor-P9000 CMYK (Halftone)

HP

Designjet Z6200 CMYK (Halftone)
Designjet Z6800 CMYK (Halftone)

Mimaki

JV34-260
TS34-1800A
TS300P-1800
TS500-1800
Tx500-1800DS

OKI
Seiko

ColorPainter H2-74s
ColorPainter H2-104s
ColorPainter H2P-74s
ColorPainter H2P-104s
ColorPainter H3-104s
ColorPainter M-64s WX ink
ColorPainter W-54s
ColorPainter W-64s
VIDEO: What's EFI Fiery XF X6.3?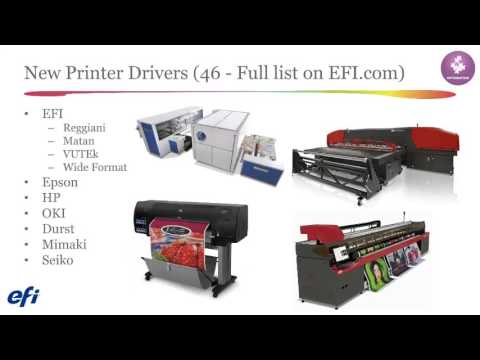 Watch Video
Specifications
| | |
| --- | --- |
| Variant | 1 |
| List price | $1,590.00 |
| Product Actual Weight | No |
| Physical Size (H x D x W) | No |
| Computer OS | Mac OS 10.7 (Lion), Mac OS 10.8 (Mountain Lion), Mac OS 10.9 (Maverick), Mac OS 10.10 (Yosemite), Windows 7 (32 bit), Windows 7 (64 bit), Windows 8 (32 bit), Windows 8 (64 bit), Windows 10 (64 bit) |
| Warranty | 1 Year Parts & Labor |
| ICC Version | No |
| Profiling Choices | No |
| Max RGB Printer Profiling Patches | No |
| Max CMYK Printer Profiling Patches | No |
| Max Multi-Color Printer Profiling Patches | No |
| Monitor Profiling | No |
| CMYK Printer Profiling | No |
| Supported Color Measurement Devices | No |
| Supported Color Measurement Devices via ColorPort Software | No |
FAQ
Questions on EFI Fiery XF Upgrade
No questions asked yet
You may also be interested in the following product(s)
| | | | |
| --- | --- | --- | --- |
| Our Price: $2,595.00 | | Our Price: $750.00 | |