Destination
Enter destination to get a shipping cost
The previous Fiery eXpress for Photo, Proofing and Proofing Advanced products are replaced by a single product called Fiery eXpress. Users buying a full version, or an upgrade, now benefit from the complete powerful toolset of all the three previous offerings.
Fiery eXpress now have two sizes, one for smaller applications (up to 18"/A2), and one for larger applications (24" and larger)
Description
Fiery eXpress 4.6
EFI Fiery eXpress off ers a professional toolset at a fraction of the cost, helping you deliver accurate, high-quality printouts in a cost-eff ective manner.
Features
Now a single Fiery eXpress offering in two sizes, small and large
Support for the latest ISO 12647-2 reference profiles
Updated verification presets for proof validation in compliance with ISO/DIS 12647-7:2016
Support for the latest PANTONE® spot color libraries
Support for the EFI ES-2000 and X-Rite i1Pro 2 spectrophotometers
14 new printer drivers for EPSON and Canon devices
Mac OS X 10.12 and Microsoft® Windows® 10 support
---
Easy to use and helpful applications
The Fiery eXpress solution is designed to be easy to use for experts and novices alike. The setup wizard, color management presets, control wedges, and spot color simulations, all of which are ready-to-use right after the installation of the product. You also have the ability to quickly create a backup and restore application settings. To ensure supported printers and standards are the very latest, Fiery eXpress will let you know when an update is available.
Back To The Top ⇑
---
Extensive functionality built on industry standards
Fiery eXpress includes more than 2,500 individually created printer linearizations and ICC profi les right out of the box. The software supports a continually updated list of close to 400 printers from Agfa, Canon, Encad, Epson, HP, Kodak, Mimaki, Mutoh, OKI, Roland, Seiko, and Xerox.
Fiery eXpress is designed to support industry standards such as ICC, PDF/X, ISO 12647-7 and -8, SWOP, and GRACoL. Native PDF support (APPE) and the support of the Adobe PostScript 3 Engine ensure that PDF, PS, and EPS files are RIPped correctly.
Back To The Top ⇑
---
Powerful tools for production
A comprehensive set of production tools to scale, mirror, crop, rotate, align, add crop marks, and more can be operated quickly and easily, accommodating less experienced users. Automated and manual step and repeat, collection, or nesting functionality improves media utilization and thus lessens waste
Do last-minute color adjustments or edit spot colors for the desired fi nal result. The job-based optimization feature allows sub-optimal paper profi les to be easily adjusted to improve output quality
Back To The Top ⇑
---
Accurate proofs made easy
Digital media wedges are the tool for precise and predictable quality control during proof and print. Fiery eXpress supports all major control strips including Ugra/Fogra, Idealliance, and Japan Color. Fiery eXpress includes wizard-based certifi cation to verify proofs and prints according to ISO 12647-7/8 and G7 standards using spectrophotometers such as the EFI ES-2000.
Back To The Top ⇑
---
Ensure Perfect Photo Prints
The solution automatically configures photo collections (single- and multi-image templates), plus contact sheets to save you time and media for image evaluation and approval. It provides image management tools to easily convert to grayscale, honor incoming RGB profiles, and it fully supports EXIF data. Moreover, the solution provides color and printing presets with an intuitive and simpler "everyday work mode" for faster processing of common tasks and higher productivity
Back To The Top ⇑
---
VIDEO: What's Fiery eXpress?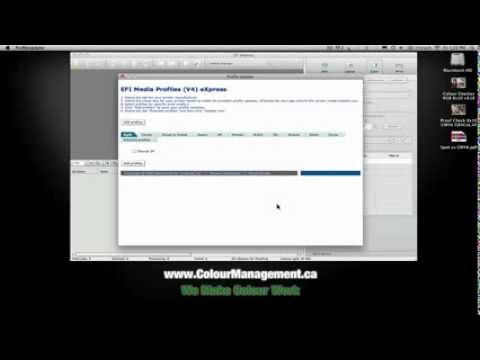 Watch Video
Specifications
| | |
| --- | --- |
| Variant | 1 |
| List price | $750.00 |
| Product Actual Weight | No |
| Physical Size (H x D x W) | No |
| Computer OS | Mac OS 10.7 (Lion), Mac OS 10.8 (Mountain Lion), Mac OS 10.9 (Maverick), Mac OS 10.10 (Yosemite), Windows 7 (32 bit), Windows 7 (64 bit), Windows 8 (32 bit), Windows 8 (64 bit), Windows 10 (64 bit) |
| Warranty | 1 Year Parts & Labor |
| RIP Features | Nesting, Concurent RIP and Print, Includes ICC Profiling |
| Certified Color | SWOP Certified, GRACoL Certified |
| Epson Printers | 4000, 7000, 9000, 10000, 4800, 7800, 9800, 10600, 4880, 7880, 9880, 11880, 7900, 9900 |
| HP Printers | 5000, 5500, Z2100, Z3100, Z3200, |
| Canon Printers | iPF5000, iPF8000, iPF9000, iPF5100, iPF6100, iPF8100, iPF9100 |
| Supported Color Measurement Devices | No |
| ICC Version | No |
FAQ
Questions on EFI Fiery eXpress
No questions asked yet
You may also be interested in the following product(s)
| | | | |
| --- | --- | --- | --- |
| Our Price: $2,595.00 | | | |