Destination
Enter destination to get a shipping cost
ColorAnt is a software solution for the measurement data processing prior to profiling.
Description
ColorLogic ColorAnt 3
ColorAnt is an easy-to-use tool that corrects an optimizes measurement data. The features include the ability to edit primary colors, substrate color and recalculate measurement data with the use of full sized test charts.
ColorAnt 3's main panel interface allows quick access to all tools from one easyto-use location. Icons display the purpose of each function on the panel.
ColorLogic ColorAnt Features
Back To The Top ⇑
---
Automatic Correction
Automatic Correction - correct and optimize measurement data automatically. It is the most used tool and is therefore placed on the top.
Back To The Top ⇑
---
Data Import/Export
The group Data Import/Export - contains tools that beside loading existing measurement data files via the file menu allow to create measurement files.
Custom Chart - designed for creating the reference files for test chart generation. Custom Chart allows you to generate reference files for color spaces such as Gray, RGB, and CMYK. Creating multicolor charts requires a ColorAnt L license
Export Chart - allows to create test charts based on device color values, which can be stored as TIFF or PSD files to be printed on a printer.
Measure Software - measure any test charts or media wedges via the UPPCT software tool and transmit the measurement data directly to ColorAnt. There are multiple measurement instruments supported.
Report Tool - generates a comprehensive analysis of your measurement data in form of a PDF or XML file. It also provides the user with corrective recommendations for such measurement
Back To The Top ⇑
---
Editing
The actual tools to edit your measurement files are located in the Editing group.
Redundancies - Corrects color patches by averaging the redundant patches and replacing with the same value.
Correction - detects faulty measurements or inconsistent measured values and replaces the data with expected measurement values.
Smoothing - Corrects inhomogeneous measurement data and non-smooth curves by interpolating existing smoothed data.
White Correction Apply manual corrections to whitest color patch, typically the paper or other substrate.
The Brightener tool- adjusts the effect of optical brightening agents (OBA) on measurement data used in papers.
The Tone Value tool - allows very targeted changes to the tone value increase (TVI) curves.
The Rescale tool - is an optional tool for re-sorting, making random test charts readable or also for rescaling to completely different test chart layouts.
Edit Primaries - is a very comprehensive tool to edit, exchange, add or remove primaries and the paper white point in your measurement data.
Back To The Top ⇑
---
Merging and Conversion
The tools in the Merging and Conversion group are designed for use on multiple measurement data sets and it contains special tools for conversion.
Averaging - average multiple test chart measurement files having the same layout and amount of patches.
Link - merge multiple single readings of test charts to one big measurement file.
ICC Transformation - is designed to apply printer and/or DeviceLink profiles to reference data in order to conduct profile tests and comparisons.
Changes to the Observer from a standard 2 Degrees to a 10 Degrees observer and changes the Illumination from the standard D50
A near white light source used in the evaluation of graphic arts and imaging applications. Also used as reference illuminant for color matching in LAB color space.

It has similar amounts of red, green, and blue energy. It neither accentuates nor subdues color, a prime requirement when viewing press sheets and proofs since a wide range of colors can exist in an image. light source.
Back To The Top ⇑
---
VIDEO: What's ColorAnt?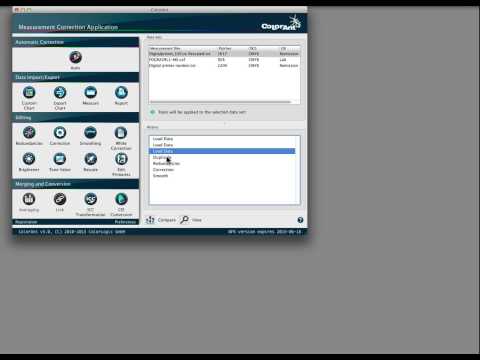 Watch Video
Specifications
| | |
| --- | --- |
| Variant | 1 |
| List price | $999.00 |
| Product Actual Weight | No |
| Physical Size (H x D x W) | No |
| Computer OS | No |
| Warranty | 1 Year Parts & Labor |
| ICC Version | No |
| Profiling Choices | Multi-Color Profiling, Edit ICC Profiles, Evaluate | Analyze ICC Profiles |
| Max RGB Printer Profiling Patches | No |
| Max CMYK Printer Profiling Patches | No |
| Max Multi-Color Printer Profiling Patches | No |
| Monitor Profiling | No |
| CMYK Printer Profiling | No |
| Supported Color Measurement Devices | No |
| Supported Color Measurement Devices via ColorPort Software | No |
FAQ
Questions on ColorLogic ColorAnt 3
No questions asked yet
You may also be interested in the following product(s)
| | | | |
| --- | --- | --- | --- |
| Our Price: $990.00 | Our Price: $1,300.00 | | |